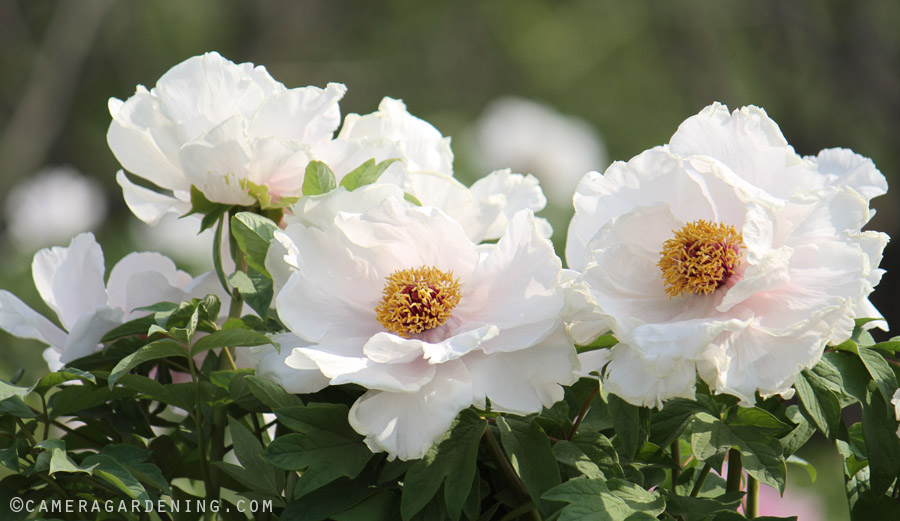 My two days at the peony festival in Luoyang are now behind me. The weather was splendid and the peonies were flowering their hearts out. The festival is a big deal for the Chinese, but there were not a lot of Westerners besides our group. This meant that we were asked to pose in plenty of pictures with the Chinese; overall the Chinese were very interested in taking pictures of each other and occasionally less of the flowers themselves. I, and my friends on the other hand have by now amassed around a thousand pictures each, and most of them are of peonies.. So, these are just a few I picked out at the airport in Luoyang when our flight was a bit delayed.
Kaksi päivää pionifestivaaleja Luoyangissa on nyt taakseen jäänyttä. Sää on ollut mitä mainioin ja pionit kukkivat sydämensä kyllyydestä. Festivaali on hyvin tärkeä kiinalaisille, mutta länsimaalaisia ei pahemmin näkynyt meidän ryhmän lisäksi. Tämä tarkoitti sitä että meistäkin muodostui nähtävyys ja saimme usein poseerata kiinalaisten kanssa valokuvissa, muutenkin kiinalaiset olivat välillä enemmän kiinnostuneita valokuvaamaan toisiaan kuin itse kukkia. Minä ja puutarhasta kiinnostuneet ystäväni saimme kuitenkin otettua noin tuhat valokuvaa per naama ja useimmiten pioneista.. Nämä kuvat ovat vain muutamia esimerkkejä joita ehdin valita Luoyang lentokentällä kun koneemme oli hiukan myöhässä.
Vi har nu upplevt två dagar av pionfestival. Vädret var utmärkt och pionerna blommade allt de orkade. Festivalen är mycket viktiga för kineserna men förutom oss, var det inte riktigt andra västerlänningar där. Det här innebar att vi blev något av en sevärdhet och fick posera på ganska många foton med kineser. Kineserna var faktiskt ibland mer intresserade av att fota sig själva och varandra och inte så intresserade av blommorna, men jag och mina trädgårdsvänner fick nog ihop en sisådär tusen bilder per lurv och för det mesta på pioner.. Det här är alltså bara några foton jag hann välja ut på Luoyangs flygplats då vårt plan var en aning försenat.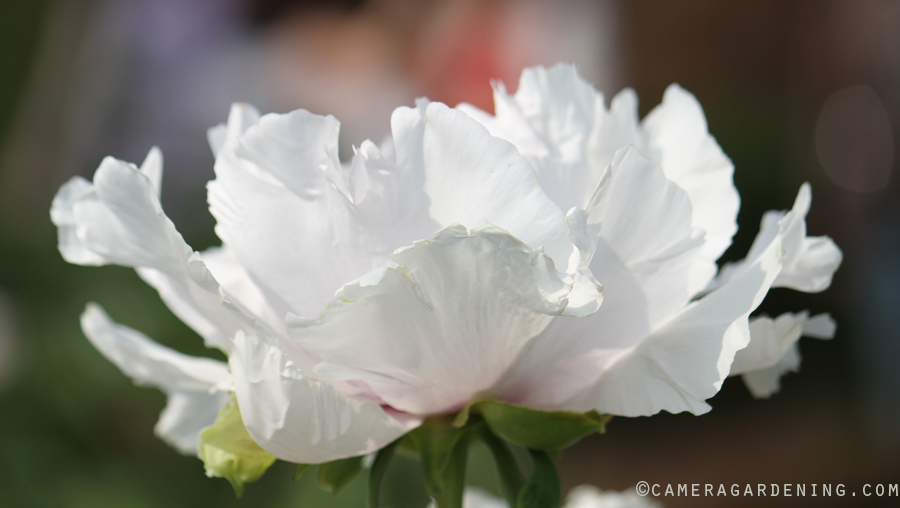 Unnamed beauties above – Nimettömiä kaunottaria yllä – Namnlösa skönheter ovan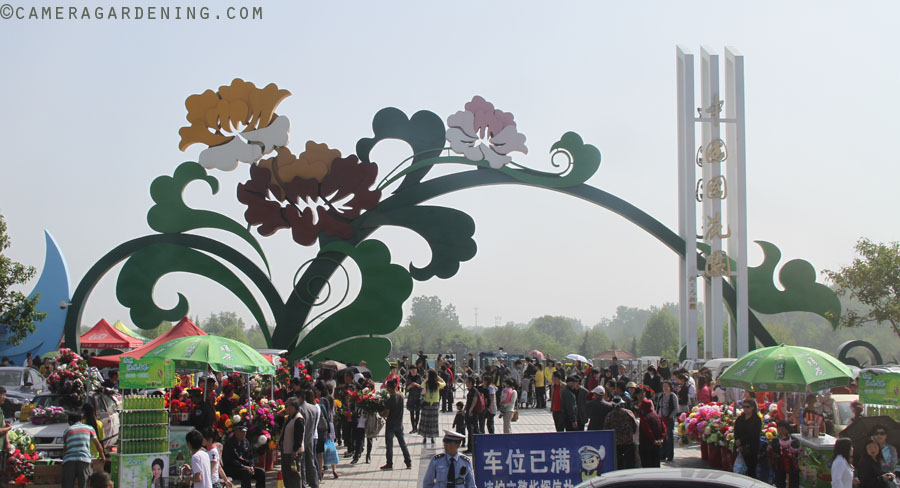 The entrance to one of the gardens – Sisäänkäynti yhteen festivaalipuutarhaan – Ingången till en av festivalträdgårdarna
The rest of the pictures show 'Huajing' one of the most beautiful tree peonies I saw. – Loput kuvat esittävät 'Huajing' puupionia joka oli yksi kauneimmista näkemistäni pioneista. – Resten av bilderna föreställer 'Huajing' som var en av de vackraste trädpionerna vi såg.