An hour before the fair opened. Noin tuntia ennen messujen avaamista. Ungefär en time före mässan öppnade.
This week has been super busy, but also quite exciting. There was quite a bit of planning beforehand, but the real effort has been from Tuesday to Wednesday in building a 68 m² fair garden for my employer Kekkilä.
Kekkilä has some splendid products that provided the building blocks, but then it was up to me, Ulrika Tuomainen and Juhani Tapiovaara to plan the stand and build it in 30 hours over two days. Luckily we had help from other builders at Helsingin Projektitoteutus and two other competent gardeners that work for Kekkilä from time to time as well.  
There are two days left of the Kevätpuutarha fair in Helsinki, drop by if you can!
Viikko on ollut kiireinen mutta jännittävä. Vaadittiin aika paljon etukäteissuunnittelua, mutta suurin ponnistus on ollut tiistain ja keskiviikon välillä kun olen ollut rakentamassa 68 m² messupuutarhaa työnantajalleni Kekkilälle.
Kekkilällä on erittäin hienoja tuotteita jotka luonnollisesti ovat olleet rakennuspalikkoina rakentamiseen, mutta sitten osaston suunnittelu ja toteutus joka tehtiin 30 tunnissa kahden päivän aikana, on ollut minun, Ulrika Tuomaisen ja Juhani Tapiovaaran käsissä. Onneksi meillä sentään oli apua muilta Helsingin Projektitoteutuksen rakentajilta ja kahdelta erittäin osaavalta puutarhurilta jotka myös ajoittain tekevät töitä Kekkilälle.
Kevätpuutarhamessut jatkuvat vielä kaksi päivää, poikkea jos voit!
Det har varit en mycket brådskande vecka, men också en alldeles spännande vecka. Det krävdes ganska mycket förhandsplanering, men det stora arbetsmomentet var mellan tisdag och onsdag då jag var med och skapade en mässträdgård på 68 m² för min arbetsgivare Kekkilä.
Kekkilä har en del väldigt fina produkter som givetvis utgjorde byggnadselementen för avdelningen, men sedan gällde det för mig, Ulrika Tuomainen och Juhani Tapiovaara att planera trädgården och se till att den blev byggd på 30 timmar under två dygn. Lyckligtvis hade vi hjälp av andra byggare från Helsingin Projektitoteutus och två kompetenta trädgårdsmästare som också tidvis jobbar en del för Kekkilä.
Det är två dagar kvar av Kevätpuutarhamässan i Helsingfors, kom förbi om du kan!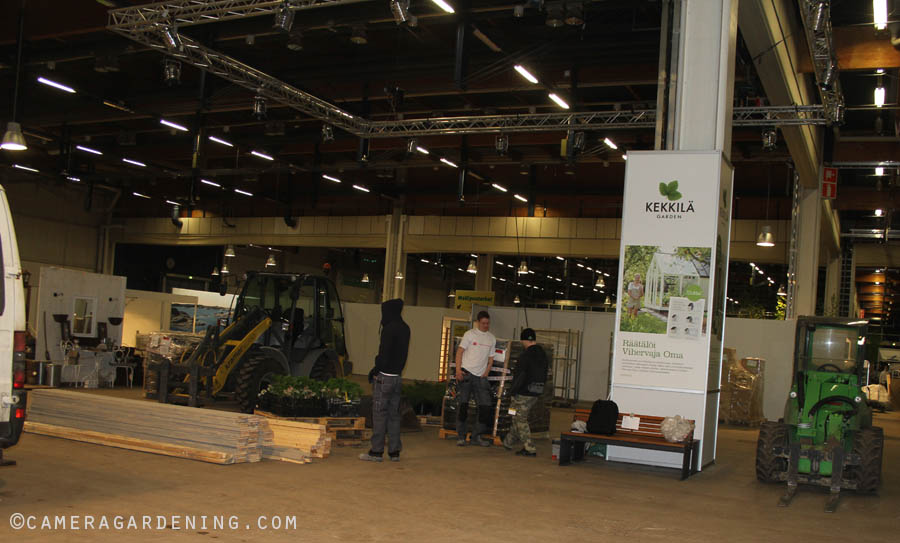 25 min after they let us in the first day, I've managed to chase away one Avant tractor that was parked in our stand, one remains + a large tractor, a scoop, some plants and a bench..
25 min sen jälkeen kuin meidät päästettiin sisään: olen onnistunut häätämään yhden Avantin tiehensä joka oli pysäköitynä meidän osastolla, mutta jäljellä on vielä toinen Avant, traktori, kauha ja kaksi lavaa kasveja..
25 minuter efter att vi släpptes in har jag lyckats jaga iväg en Avant-traktor som stod parkerad på vår avdelning, men det står fortfarande en annan Avant-traktor, en större traktor, en skopa och två pallar växter kvar.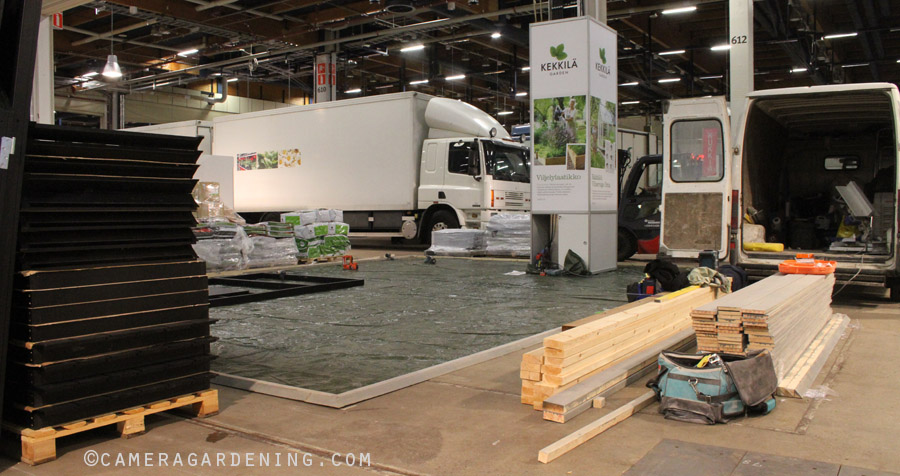 An hour later. Tuntia myöhemmin. En timme senare.

Six hours later. Kuusi tuntia myöhemmin. 6 timmar senare.

Three and a half hours in day 2, Mari joined us for day 2 and has started to plant. Kolme ja puoli tuntia on kulunut toisesta rakennuspäivästä, Mari liittyi rakentamisporukkaan ja istuttaa. Tre och en halv timme har gått av den andra dagen och Mari har kommit med och börjat plantera.

Stina Pyrrö came by and snapped a shot of me doing something with a watering can and Ulrika getting out of the Garden Shed. Stina Pyrrö käveli ohi ja otti kuvan minusta kastelukannun kanssa ja Ulrikan kävelemästä ulos Vihervajasta. Stina Pyrrö gick förbi och fotade mig med vattenkannan och Ulrika gående ut från Trädgårdslidret.

In the afternoon of day 2: Ulrika is considering something for the Green Cabinet. Toisen rakennuspäivän iltapäivän aikana Ulrika pohtii jotain Vihervitriiniä varten.  Någon gång på eftermiddagen under den andra dagen funderar Ulrika på någonting för Grönvitrinen.
The rest of the pictures are from about an hour before the fair started.
Loput kuvat on otettu noin tuntia ennen messujen avaamista.
Resten av bilderna har tagits cirka en time före mässan öppnade.





At times, that bench, by Ulrika and Juhani (my contribution was the height request) has seemed like the most inviting thing on the whole stand 😉
Ajoittain Ulrikan ja Juhanin luoma penkki (minun panostukseni oli korkeustoivomus) on vaikuttanut koko osaston houkuttelevammalta asialta 😉
Ibland, under mässan lopp, har den bänk som Ulrika och Juhani skapade (jag hade bara ett höjdönskemål) verkat som det mest lockande på hela avdelningen 😉