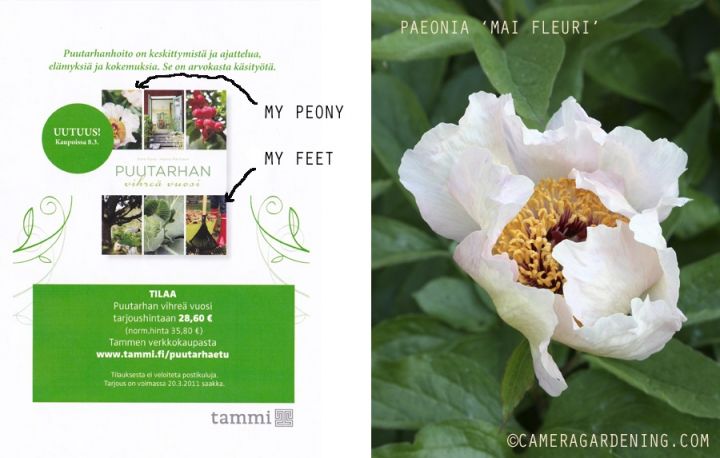 The title of the post is a clumsy translation of a new gardening book by two of my old classmates and good friends from gardening school. I'm very proud of them, Stina Pyrrö, the author, was a reporter even before she came to gardening school and Hanna Marttinen, the photographer, did the same thing I did, i.e. studied some more after gardening school; in her case photography. Hanna is a fantastic photographer as well as one of my best friends and I've worked with her both in my day job and doing freelance work.
Some of the pictures in the book have been previously published, which is why I'm in some of them, occasionally it is my feet, as on the cover, a few times my hands are showing and I think I'm pictured whole watering, but more importantly there are some wonderful pictures from my garden and some other stunning Finnish gardens. In my opinion Hanna is the best garden photographer in Finland, I might not be objective, but I'm not the only who has said it!
There is a special offer on the book on the publisher's web site here.
Puutarhan vihreä vuosi on uusi ja erittäin hieno suomalainen puutarhakirja, jonka kaksi minun puutarhakoulun luokkakavereista ovat tehneet. Olen erittäin ylpeä heistä, Stina Pyrrö, kirjan kirjoittaja oli toimittaja jo ennen kun hän tuli puutarhakouluun ja Hanna Marttinen, kirjan kuvaaja, taas teki saman kuten minä, eli opiskeli lisää puutarhakoulun jälkeen, hänen tapauksessa valokuvausta. Hanna on fantastinen valokuvaaja ja myös erittäin hyvä ystäväni, olen tehnyt Hanna kanssa töitä päivätyöni toimesta ja olemme myös tehneet freelance projekteja yhdessä.
Osa kirjan kuvista on julkaistu aikaisemmin, sen takia minä näyn muutamassa, kerran jalkani, kuten kannessa, pari kertaa käteni näkyvät ja taidan myös näkyä kokonaan kastelemassa yhdessä kuvassa, mutta paljon tärkeämmin, siinä on erittäin hienoja kuvia puutarhastani ja muista upeista suomalaisista puutarhoista. Minun mielestä Hanna on Suomen paras puutarhavalokuvaaja, en ehkä ole ihan objektiivinen, mutta en ole ainoa joka on sitä mieltä! 
Kirjasta on erikoistarjous kustantajan nettisivuilla täällä.
"Trädgårdens gröna år" är en ungefärlig översättning på en väldigt fin ny finsk trädgårdsbok som två av mina gamla klasskamrater från trädgårdsskolan gjort. Jag är väldigt stolt över dem, Stina Pyrrö som skrivit boken, var redan en reporter före hon kom till trädgårdsskolan och Hanna Marttinen  har igen gjort som jag, d.v.s. studerat vidare efter skolan, i Hannas fall till fotograf. Hanna är en fantastisk fotograf och också en av mina bästa vänner, jag har jobbat med Hanna både i mitt vanliga jobb och med freelance projekt.
En del av bokens bilder har publicerats förut, därför syns jag i några, mina fötter på pärmen, mina händer några gånger och jag kommer visst att synas helt och hållet vattnande, men desto bättre, där finns härliga bilder på min trädgård och på andra fantastiska finska trädgårdar. Jag tycker att Hanna är Finlands bästa trädgårdsfotograf, jag är kanske inte helt objektiv, men jag är inte den enda som tycker det!
Bokens förläggare har ett specialerbjudande på den här.
The picture shows a marketing flyer and one of my inferior pictures of one of my favorite peonies. Kuvassa markkinointiflyeri ja minun hiukan huonompi kuva yhdestä suosikkipionistani. Bilden visar en markandsföringsflyer för boken och en av mina lite sämre bilder på en av mina favoritpioner.