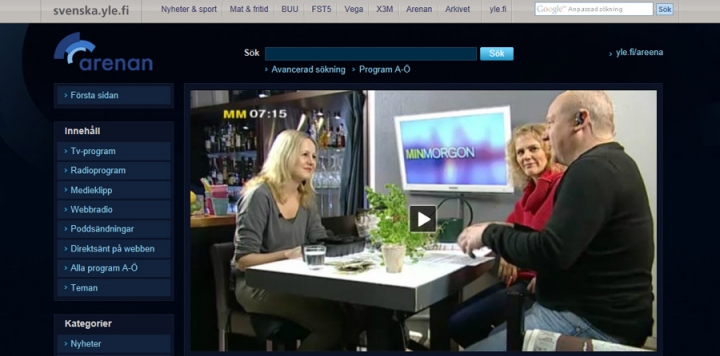 I got a call yesterday and was asked to be on the Swedish speaking morning show Min Morgon. They were interested in current gardening tasks. It's still very much winter here so it was either repotting, growing herbs indoors or starting plants from seed. I went with the two latter. I you are in Finland or use a VPN service like the ones my expat friends like you can see the show here until the 24th of February. I'm on at 14:40 minutes in and babble away for the next ten minutes.
EDIT: You can't see it anymore
Minua pyydettiin eilen mukaan FST:n Min Morgon aamu-ohjelmaan. Heitä kiinnostivat ajankohtaiset puutarhatoimet. Niitähän ei ole ihan hirveästi, mitäs nyt voi kasvatella yrttejä sisällä, esikasvattaa siemenistä ja vaikka istuttaa huonekasvit uudelleen. Päädyin keskittymään kahteen edelliseen. Ohjelma on nähtävissä Areenalla, jos surffaa Suomesta käsin tai käyttää sopivaa VPN palvelua 24. helmikuuta asti, osuuteni alkaa 14:40 minuutin kohdalla ja rupattelen noin seuraavat kymmenen minuuttia.
EDIT: Juttu ei enään ole nähtävissä
Jag blev uppring igår och tillfrågad om jag kunde komma som gäst till det finlandssvenska morgonprogrammet Min Morgon. De var intresserade av vad som är aktuellt i trädgårdsväg: så väldigt mycket finns det ju inte att göra just nu, förutom närmast att odla örter inomhus, starta plantor från frön och plantera om krukväxter. Jag beslöt mig för att koncentrera mig på de två förstnämnda. Man kan se programmet om man surffar från Finland eller använder sig av en lämplig VPN-tjänst såsom mina kompisar utomlands brukar göra. Programmet finns på HÄR tills den 24. Februari, min del börjar 14:40 minuter in och håller på i cirka 10 minuter.
EDIT: Det går inte mer att se inlägget